What is Round Table and how do I join?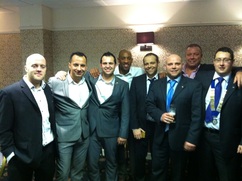 Being a member of Round Table is all about having fun with family and friends, while helping the local community.
Members come from all walks of life, and they make a great deal of difference at the same time having a fantastic amount of fun. Membership is open to men between the ages of 18 and 45, but that does not mean that we exclude the ladies from getting involved with many evenings through the year where they are invited to come along and take part in the festivities.
Photo: Hunstanton Round Table joined by Dion Dublin and Dale Gordon at recent meeting.
If you live fairly local and are looking for a new social activity we are ready to hear from you. We meet every second Tuesday and the things that we do are truly varied: sports, parties, BBQ's, a night at the races, debates, formal dinners and even international visits with our various partner tables around Europe.
In a nutshell, we are about "friendship" - regular & varied meetings with people with diverse interests, and occupations.
We are also about having fun in a social sense with some fund-raising thrown in. It's different, better than a night down the boozer and great fun. What's more, you get a real sense of belonging to something rather special. Not so easy to find these days.
Many different events are organised both at individual Table level, Area, National and international level. There are very few other ways in which you can enjoy a wider and more varied social life than as a member of Round Table
Round Table exists in many other countries around the world. And Hunstanton and District Round Table have travelled to many other tables, providing opportunities to travel and stay with local families, experiencing all of those things you would miss on a traditional holiday.
Do you want to help your community and those less fortunate than yourself, whilst still having fun? Fundraising takes up approximately 20% of Round Table activities, but it is great fun, as well as personally rewarding. Round Table members get to use their imagination to bring a smile to those who really do need and appreciate a little help now and then!
Round Table supports local needs and large national charities alike. Other activities are also organised to help the community in other ways - all of which takes little effort on our part but is very rewarding and always fun.
Round Table is one of the best-kept secrets that isn't supposed to be, indeed our table alone has been serving the community for over 50 years! Our sister organisation
The Ladies Circle
is available for wives and girlfriends and is similar to Round Table, meeting on the alternate Tuesday evenings to ourselves.
Contact us to let us arrange for you to attend a Table meeting or event as our guest without any obligation or commitment. Please view
The National Round Table
site for much further information about our organisation.
Please contact us now for more information.
---
Aims and Objectives of Round Table

To develop the acquaintance of young men through the medium of their various occupations.
To emphasise the fact that one's calling offers an excellent medium of service to the community.
To cultivate the highest ideals in business professional and civic traditions.
To Recognise the worthiness of all legitimate occupations and to dignify each his own by precept and example.
To Further the establishment of peace and goodwill in international relationships.
To Further these objects by meetings, lectures, discussions and other activities.