Area Sporting Champions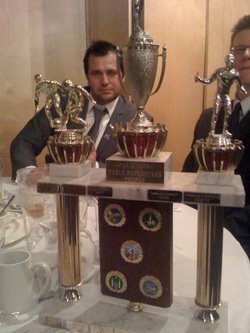 I would just like to take this opportunity to congratulate all tables in area 6 who competed in this years area sports events, and to remind everyone that it's the taking part that counts………

All that aside I am proud to announce that Huntsanton 615 took tremendous pride in, not only winning the Area Sports Trophy, but thrashing all competitors at every "genuine" sports event throughout the competition. In particular I would like to mention our elite bowling squad, who gave other tables a head start before stepping unto the mark stealing final victory from under the noses of the predicted winners!

We look forward to another competitive year of area sports events and retaining our collection of nicely polished trophies at next years AGM!


---
AGM Awards 2012:
Top Left: New chairman kevin hands over role of vice chairman to Gary Waddison
Top Middle: Not quite sure how but Leon wins the Victor Ludorum (Sportsman of the year trophy)
Top Right: Leon hands over chairman role to Kevin Waddison
Bottom Left: Leon presents Ed with nicest Tabler
Bottom Middle: Leon presents The David Legge Salvor (Hardest working tabler) to Craig Darwin
Bottom Right: Leon enjoys handing the Richard Searle Tablers Tabler Mug to Kevin Waddison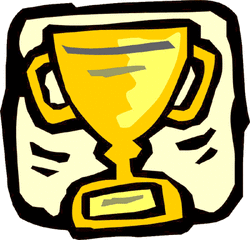 ---