Road Trip 2013 to Munich. Come and join us for the trip of a lifetime and raise money for your table!!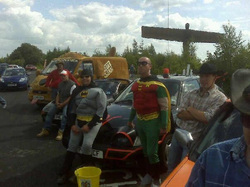 We invite Tables from all over the country to join us on our third Road Trip, this time to and from Munich. We already have at least four other tables joining us.

The requirements and details are set out below and we can promise you the most fun you've ever had in Round Table and some great memories to live with you forever.

Interested? The please contact us through our website or via @HunstantonRT on twitter and we can give you full details and answer any queries you may have. Many thanks and we look forward to a wonderful event!
---
Details of the event
We depart Hunstanton at 3-30 am on Wednesday 2nd October and arrive back at Hunstanton on Monday 7th October. Other tables from differing areas may wish to meet us at Dover.

Cars must cost £400 or under and a receipt must be shown of purchase cost.

Cars must be decorated and costumes worn at all times of driving. So far this year we have NYPD police, Back to the future, A Team, Mad Max interceptor, General Lee and five others yet to show their hand!

All cars must be fitted with a CB Radio.

This is not a race in any form, the vehicles will travel as fast as the slowest vehicle unless it is a complete heap!

The driver for the next day should not be drinking high levels of alcohol the night before driving, even if everyone else does!

There is no fee to enter and you can raise money for own charity. Hunstanton have decided to raise for Scotties Little Heroes which is a charity set up in Kings Lynn but run nationally for children of injured or killed British soldiers. You though are free to support your own charities if you like. We do not generally bucket rattle as this loses valuable pub time, we tend to get car sponsorship before and give any profits made from car sales.

Day 1, Cross channel and stay in Gent, Belgium
Day 2, Travel from Gent to Nurburgring
Day 3, Race round Nurburgring a few times then head to Munich
Day 4, Recover from beer, day in Munich and then another night in Munich
Day 5, Head home, stopping and city venue TBA (maybe Brussels)
Day 6, Travel home

Hunstanton will provide all hotel venues, ferry crossing times, rules, foreign scripts in case of police questions and directions, Oktoberfest table booking and Round Table logos for cars. The venues and ferries must be booked directly from your table.

Lets have a great time!!!!!